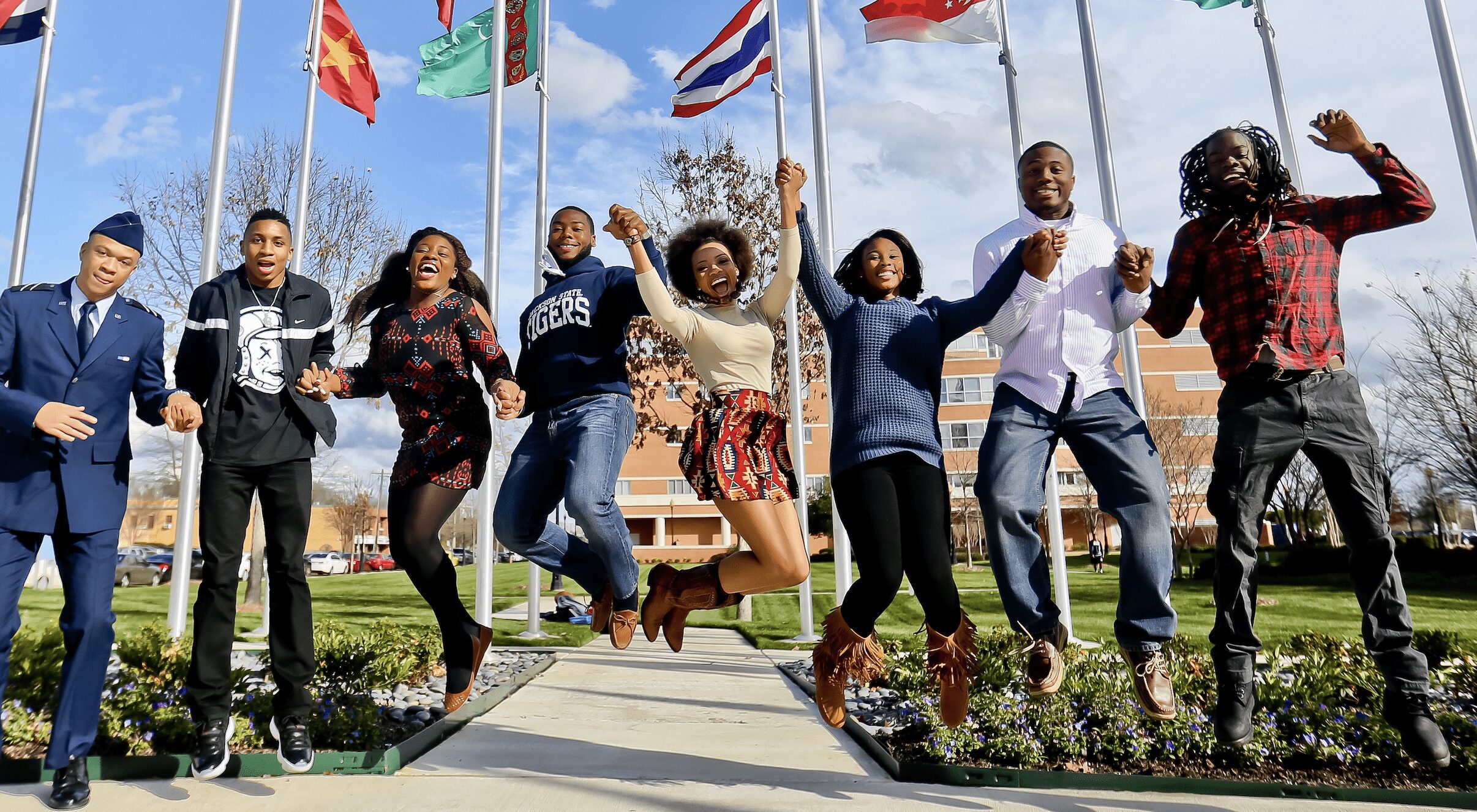 Step 1: Visit Our Campus
Are you ready to visit our beautiful Jackson, MS campus? Join us for a tour and explore life at Jackson State. Your visit will consist of a brief orientation session and a 1½ hour walking tour. During our tour, prospective students and visitors learn about undergraduate admission requirements, degree options, housing, student life and the legacy of the university. Schedule A Visit (https://www.jsums.edu/recruitment/)
Can't Come To Campus? Take A Virtual Tour (https://www.jsums.edu/virtual-tour/)
Step 2: Get Admitted to JSUOnline
Undergraduate
• Submit an Undergraduate Application for Admission (https://jsums.elluciancrmrecruit.com/Apply/Account/Login?turnUrl=%2fApply)
• Send an official transcript to Undergraduate Admissions
• Submit official ACT or SAT to Undergraduate Admissions
Graduate
• The Division of Graduate Studies' web site provides information for prospective graduate students regarding our more than 50 graduate programs, application procedures, and other information related to graduate education at Jackson State. If you need additional information, contact the Division of Graduate Studies at (601) 979-2455 or gradtranscript@jsums.edu.
For more information regarding Graduate School, click here (https://www.jsums.edu/graduateschool/)
Transfer
• Submit an Undergraduate Application for Admission (https://jsums.elluciancrmrecruit.com/Apply/Account/Login?
ReturnUrl=%2fApply)
• Submit an official transcript from each college or university attended.
• Applicant must be in good standing at the last college or university attended.
Readmission
• Former students that were not registered at Jackson State University during the preceding semester must submit an Application for
• Official transcripts from all institutions attended since the student was last enrolled at Jackson State University
• Suspended students who are approved for readmission will be readmitted on probation. A Letter of Admission will be received outlining the probation requirements. All documents must be received before registering for courses.
Step 3: Submit Documents
Test Scores
• Official test scores must come from ACT or SAT. Test scores printed on the transcript are not considered official. Electronic scores must be in a pdf format and emailed transcripts@jsums.edu ACT scores printed on the transcript are NOT considered official (Please submit official copy)
Official Transcript
The official transcript may be:
o Sent electronically via Parchment web account or Clearinghouse (email for clearinghouse is transcripts@jsums.edu). Mailed in official school envelope.
o Hand-delivered in a sealed envelope
o Emailed directly from the high school counselor or other school administrator from school email address to transcripts@jsums.edu
o To complete the enrollment process, official final transcripts must be received by Undergraduate Admissions as soon as final grades are posted.
Mailing Address:
Jackson State University
Undergraduate Admissions
P.O. Box 17330 Jackson, MS 39217
www.jsums.edu/admissions
Step 4: Complete the FAFSA
Complete the FAFSA
• Complete the Free Application for Federal Student Aid (FAFSA) online at www.studentaid.gov and request the results be forwarded to the Financial Aid Office at Jackson State University. (JSU Code 002410) For additional information, contact our JSUOnline Financial Aid Specialist at (601) 979-7099.
Step 5: Apply for Scholarships
Step 6: Register for Classes
JSUOnline Academic Advisors play a key role in assisting distance learning students with adjusting to the online platform, academic expectations and understanding policies and procedures. Academic Advisors are available to assist students in developing academic plans, providing educational guidance, and planning course schedules.
ADVISEMENT AND RETENTION
Robin Marshall
Online Advisor/Retention
601-979-7089
robin.r.marshall@jsums.edu
Undergraduate Programs (Criminal Justice, Emergency Management, Healthcare Administration, and Professional Interdisciplinary Studies )
Keith Riley, Ed. D.
Online Academic Evaluator
601-979-7090
keith.o.riley@jsums.edu
Undergraduate Programs (Childcare and Family Education)
Step 7: Complete Registration
Students are encouraged to complete their registration before the first day of class. In order to complete your registration, students may satisfy financial obligations through payments or payment plans. Required documentation must be submitted for payment plans. Electronic bills are sent monthly to the assigned JSU email address. Students are encouraged to view their student account for accuracy and to make timely payments by the due date.
JSU is an environment that inspires you to grow, learn, and reach beyond the ordinary. This is a "home away from home" where every student can find their place – academically, socially, and culturally.
One of the nation's top historically black colleges and universities (HBCU), JSU provides a culture of self-discovery and shared experience where its students are able to develop strong sense of self in a challenging yet nurturing environment that empowers them for personal and professional success.
Through distance learning, traditional and nontraditional students have the opportunity to receive quality instruction without the limitations of geographical boundaries and space.
Join us for an excellent educational experience and work toward completing your degree and achieving your long-term career goals – All at your convenience in a virtual supportive learning space!