Welcome! You're in the "write" place!
At JSU, we all write. And all writers need feedback to be effective.
To become an effective writer and speaker, seek feedback–like a professional. In the Richard Wright Center, trained peer tutors provide feedback and answer your questions.
Seek feedback on and talk through
your ideas or argument

your research

your class or conference presentation
And more!
​Ask questions about
assignments

strategies for overcoming "writer's block"

strategies for revising and editing

organization and supporting evidence

resources and reference materials

documentaion styles (e.g., MLA, APA, Chicago)
And more!
Engaging in conversation about your project–in individual tutorial sessions and in workshops and roundtables–can help you build your confidence, improve your communication skills, and develop an awareness of audience expectations as you work to achieve your educational objectives. You can make an appointment online or drop by.
Use our "collaboration station" to work on group projects and presentations. To reserve the station, call Dr. Glushko at 601-979-1777.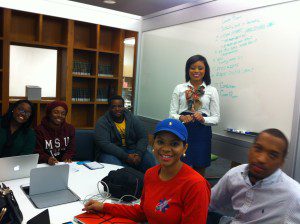 ​Workshops and Roundtable Discussions
Discuss specific writing, research, and presentation issues during 30-minute workshops.
Find out what we discussed in our workshops or roundtables and review documentation styles.