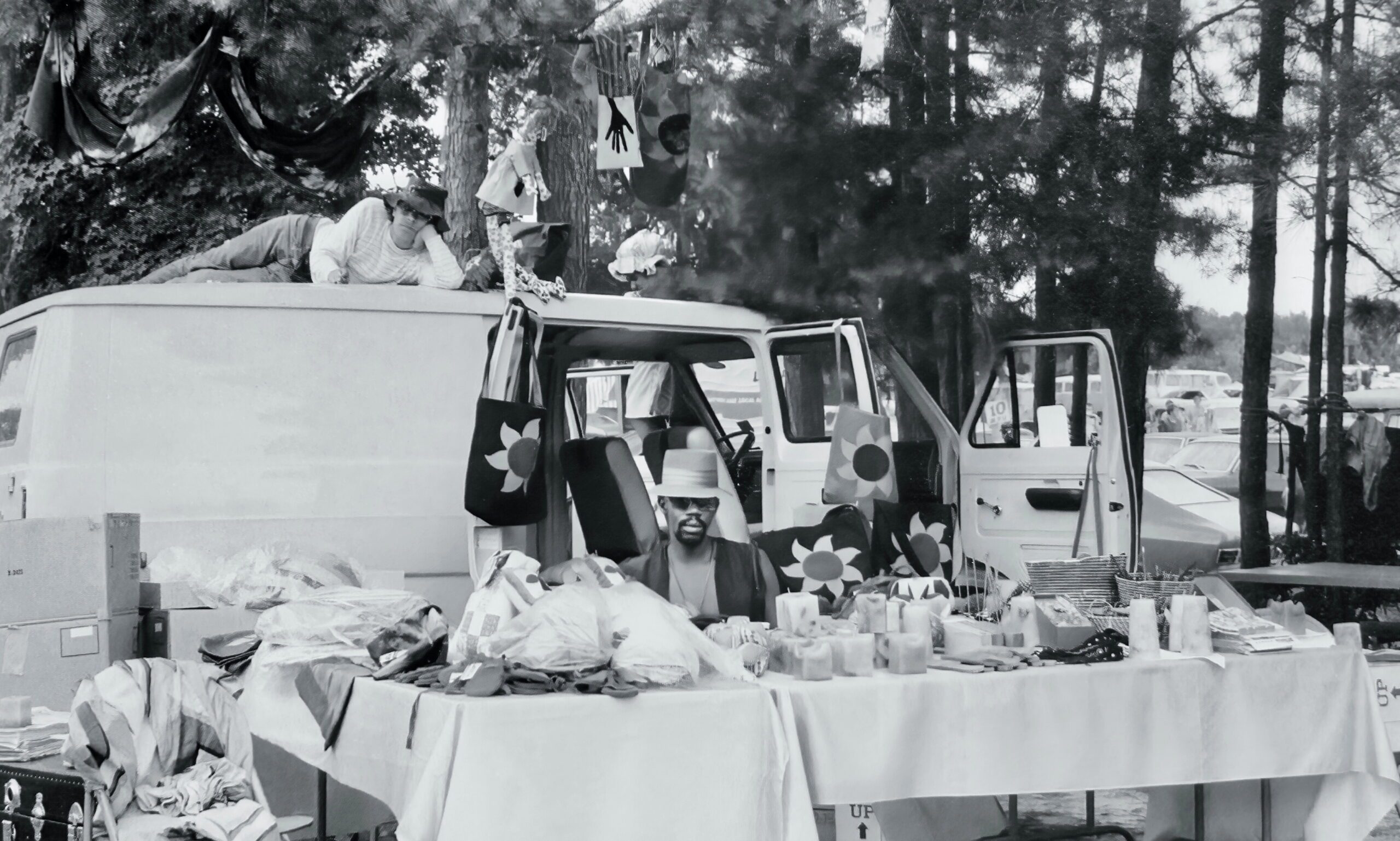 Liberty House and Craft Cooperatives
A Virtual Exhibition
The Poor Peoples Corporation/Liberty House were part of the arts and crafts movement. From 1965 to 1974, Liberty House provided training, supplies, and even markets for goods made by African American men and women, many small Mississippi towns. Besides crafts cooperatives across the state, and Jackson as its headquarters, there were Liberty Houses in several major cities across the country. Note: Permission for use of Derby Images will need to be made through her estate.
Thomas Kersen and Robert Luckett, Jackson State University
Doris Derby, Georgia State University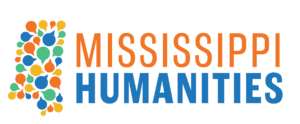 This program is financially assisted by the National Endowment for the Humanities through the
Mississippi Humanities Council. The views expressed herein do not necessarily represent those of
the Mississippi Humanities Council or the National Endowment for the Humanities.
---
One Earlier Mississippi Cooperative

"Delta cooperative farms. Hillhouse, Mississippi. Negro cabins are on one side, white cabins on the other."
(1937) by Dorothea Lange. Library of Congress, LC-DIG-fsa-8b32083.
In his book, Providence (2002), Will Campbell wrote about his experiences at one of these cooperative farms in
Mississippi. Cooperatives, whether they are farm, craft, or other, share in the desire to empower people. However, the focus and approach differ by the type of cooperative.
Cooperative Movement in the South, 1960s-1970s
Cooperatives appealed to Jesse Morris and Doris Derby over other forms of intentional community because the main idea behind them was self-help. When Morris planned Liberty House, he wanted people would learn a craft/trade and earn a living under their own terms. There was also the idea generating wealth and keeping it in the black community. He was a practical man who had little use for ideologues.
Cooperative Movement has a long history in the United States but the major umbrella cooperative organizations that were active and linked to Liberty House (LH) early on were Berkeley Coops, Consumer Cooperative Society, Palo Alto, CA, Cooperative League of the USA out of Chicago, and the Federation of Southern Cooperatives (FSC). Currently, the FSC has offices in Alabama, Louisiana, Mississippi, and other places. The FSC training school is in Epes, Alabama. Liberty House had strong links to FSC.
Forms of Black Empowerment
Poor People's Corporation (PPC) was a precursor to the Poor People's Campaign and March. Although they worked to the same end—empowering people, the Poor People's Corporation was focused on cooperatives. Jesse Morris, Doris Derby and others believed the best way to help marginalized African Americans, such as those found in the Mississippi Delta was by teaching them crafts and how to operate small businesses. PPC was founded a few years before the Black Power movement came into the public focus.
There were some affiliated organizations that PPC members were a part of prior to Liberty House such as the Student Nonviolent Coordinating Committee (SNCC). Moreover, several initiatives had already happened in Mississippi that established resources, structures, and links for future endeavors such as Liberty House. The Mississippi Summer Project of 1964 is one example.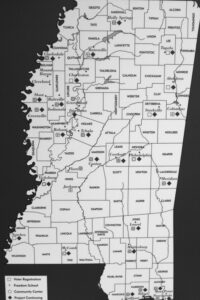 Some Affiliated Civil Rights Organizations
The importance of groups affiliated with Liberty House cannot be overstated. They offered advice and support. In some cases, it is from this organizations that staff had their start in community organization. Some of those organizations are Council on Federal Organizations (COFO), Congress on Racial Equality (CORE), Freedom Democratic Party (FDP), National Association for the Advancement of Colored People (NAACP), and Student Nonviolent Coordinating Committee (SNCC).
Other Groups & Organizations
Jesse Morris had a lot of connections in Mississippi and around the country. Some important religious organizations early in the rise of Liberty House were the Delta Ministry, Episcopalians, Religious Society of Friends, Unitarians. These groups supported and helped distribute PPC brochures in places like Philadelphia and Highlander Folk School in Tennessee. Jesse Morris and Myles Horton, cofounder of Highlander Folk School, knew each other well and worked together on a number of issues.
Liberty House was also part of the counterculture scene in Jackson. The cooperative advertised in Kudzu, an underground newspaper based in Jackson not far from Liberty House headquarters. Readers could go to Liberty House to get the latest copies of Kudzu too–often a difficult task given the fact that authorities were actively trying to keep the paper out of the hands of young people.
Poor People's Corporation (PPC)
In 1965, the Poor People's Corporation (PPC)/Liberty House (LH) opened in Jackson, Mississippi.  According to a Washington Post article by Don Robinson, dated January 16, 1967, PPC "…manifests a trend which has seen the Southern civil rights movement attempt to set up a series of local businesses  cooperatives." Although Mississippi Sovereignty Commission monitored PPC/LH, it wasn't considered a threat by Jesse Morris or Doris Derby, even though Morris, after his Liberty House tenure, suspected Mississippi Sovereignty Commission had someone who had infiltrated Liberty House. The PPC executive director was Jesse Morris, formerly a leader within the Student Non-Violent Coordinating Committee (SNCC). Doris Derby was also a former SNCC worker, an educator in northern Mississippi for Headstart before coming to PPC. At PPC she wore many hats but was involved with marketing and publicity. Other important staff such as Lary Rand, manager, Ian Tomlin, who was the designer and responsible for the catalog.
| | | |
| --- | --- | --- |
| | | |
| Jesse Morris, standing – Founder, Executive Director, Coordinator of Internal and External Organizational Liaisons and New projects. | Doris Derby – External Development Officer, Director of Public Relations, Marketing and Fund Raising, Coordinator of Craft Cooperative Development Training and international crafts. | Doug Jenkins – Craft Cooperatives Liaison, Raw Materials and Finished Products Delivery Driver |
| | | |
| --- | --- | --- |
| | | |
| Ian Tomlin, on right – Product, and catalog Designer, Sales Promotion Material Developer Here is Tomlin and Coop Members at a Quarterly Business Meeting for Coops. | Eula Mae Williams- Liberty House –Jackson, MS, Manager, Retail Store | |
A Partial List of Other Staff From Over the Years
Lary Rand-Manager- Liberty House Warehouse
Gracie Hawthorne- Staff Assistant
Millicent Brown- Staff Assistant
Hilda Wilson- Cooperative Crafts Development
Emma Bell
PPC Organization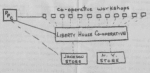 The workshops were spread across the state and there were many more Liberty House stores in the country than the two pictured.
Besides the Coops and the Liberty House Outlet stores, there were other major components to PPC Business & Crafts Training, offsite, or at the individual coops. Plans for Training school in Edwards. The headquarters and warehouse were located in Jackson. The headquarters is where the administration and quarterly meetings of coops took place. It is where supplies and logistics were dealt with. People from the headquarters traveled to Coops to pick goods up and delivering supplies and other tasks. There was also a transitory printshop over the period of LH. The next set of pictures are of the various operations of Liberty House and its cooperatives.
| | | |
| --- | --- | --- |
| | | |
| Staff Print Shop Henry J. Kirksey. Getting the catalog and other material printed was a persistent problem for Liberty House. | Liberty House HQ & Warehouse,  Stocking the Shelves | Shipping Department |
| | | |
| Doris Derby, Marketing Staff on Location, Unknown Photographer | Fay Bellamy, Marketing Staff on Location | Annie and Vertilla Evans, Local Sales |
| | | |
| --- | --- | --- |
| | | |
| And one more of the Marketing Sites. | Directions on Sewing, Training Center in Edwards & at Various Cooperatives. | Training Center in Edwards & at Various Craft Cooperatives |
The PPC Craft Cooperatives
This list is conservative and there were many more that didn't last long.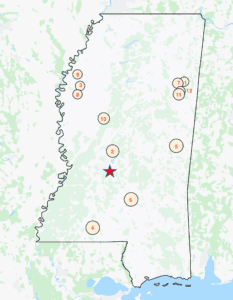 Most of the cooperatives took up sewing. In the Canton cooperative the members made dresses. Besides sewing, McComb members were leatherworkers. In West Point, members were making candles. Aberdeen (1), Canton (2), Cleveland (3), McComb (4), Mount Nebo (5), Mount Olive (6), Prairie (7), Shaw (8), Shelby (9), Tchula (10), West Point  (11), White Station (12), Jackson HQ (star)
MS Producer Craft Cooperatives at work
Each cooperative was required to have 10 workers. Cooperatives were to meet regularly with a Liberty House Jackson representative. The training center in Edwards ran classes to teach various crafts to people such as sewing and leatherwork.
PPC cooperatives also participated in quarterly Producer Cooperative Business Meetings with Liberty House Warehouse staff, Cooperative Executive Board Members and members at large. These meetings were important for gauging what was happening in the craft cooperatives across the state. Also people received awards and certificates. And problems and concerns were discussed.
Issues
That PPC/Liberty House lasted as long as it did is noteworthy given that Jesse Morris and other leaders in the organization had little background in business, funding, or even running an organization. Those weaknesses led to chronic money problems for Liberty House Jackson. In its final years, many craft cooperatives were not getting paid on time or at all. According to historian William Sturkey, "By 1970, Liberty House was going broke, (pg. 54)." Besides funding, quality of goods was a problem for some cooperatives. Conflict between workers in the cooperatives was a problem too. The PPC closed down for good in 1974 (pg. 57).
Firsts
PPC/Liberty House was one of the earliest civil rights endeavors focusing on black economic empowerment. It was one of the first African American crafts-work cooperatives. Because of the work of Doris Derby and others, traditional African clothing was integrated into the Jackson State University homecoming event for the first time in 1970.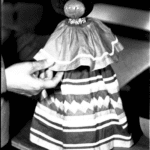 Besides being on the forefront of cooperative endeavors in the south, Liberty House empowered people and communities. One social psychological aspect of empowerment was something as small as a doll. Doris Derby told a story about a picture of two black girls, one of them holding a white doll. Liberty House made black male and female rag dolls for African American children across the country. Derby saw a picture of those dolls in a book of photographs in Colorado. She knew that those dolls helped children see themselves in a positive way.
A Seed
Liberty House was created to counter the oppression and marginalization of African Americans in Mississippi. Through Liberty House, many people, especially elderly black women learned a craft and even how to manage a small business. In today's terminology, such an endeavor is called small business generators or labs and are often found on college campuses. Federation of Southern Cooperatives continues to do good work in Alabama and surrounding states.
| | |
| --- | --- |
| Founding member Carol Zippert meeting with Kersen in 2007 to talk about Federation of Southern Cooperatives and show some of the crafts that organization produced over the years. Picture by T. Kersen | Pine needle baskets woven at the Federation of Southern Cooperatives in Epes, Alabama. These and other crafts are still being made and sold. Photograph by T. Kersen, 2007. |
The Importance of Cooperatives
The historical significance of PPC rests on the fact that Liberty House and the crafts cooperatives spread across the state were connected to civil rights organizations at both the local, state, and national level. These cooperatives offer a glimpse in the structure and networking processes of civil rights organizations, like the Student Nonviolent Coordinating Committee, operated in the state. The cooperatives provided jobs for local African Americans. Understanding the cooperative movement in Mississippi and other southern states offers insights into local economic conditions for African American communities during the late-1960s and early-1970s. The products produced by the cooperative workers were not just sold in Mississippi. Shops selling the products were opened in several cities in the United States.
Concluding Thoughts
This research and exhibit adds to the history of an alternative economic/labor system for marginalized people in Mississippi. Furthermore, this exhibit offers insights into the strategies used by Mississippians and outsiders to enact progressive change in their lives and communities. Lastly, researchers and community organizers will learn the strengths, weaknesses, opportunities, and threats encountered by Poor Peoples Corporation and Liberty House.
Suggested Reading
Case, John and Rosemary Taylor, eds., Co-Ops, Communes, & Collectives: Experiments in Social Change in the 1960s and 1970s, (New York: Pantheon, 1979).
De Muth, Jerry "Poor People's Co-ops," America 118,  (December 1970): 489-490.
Jackall, Robert and Henry Levin, eds. Worker Cooperatives in America (Berkeley: University of California Press, 1984).
Marshall, F. Ray, Cooperatives and Rural Poverty in the South, (Baltimore: Johns Hopkins Press, 1971).
Rothschild, Joyce, "Alternatives to Bureaucracy: Democratic Participation in the Economy," Annual Review of Sociology 12 (August 1986): 307-328.
Sturkey, William, "Crafts of Freedom: The Poor People's Corporation and Working-Class Activism for Black Power," The Journal of Mississippi History 74 (Spring 2012): 25-60.
Voorhis, Horace, American Cooperatives: Where They Come From, What They Do, Where They are Going, (New York: Harper, 1961).
Williams, Richard, The Cooperative Movement, (VT: Ashgate Publishing, 2007).

Margaret Walker Center
College of Liberal Arts
Jackson State University
Ayer Hall
1400 J.R. Lynch Street
P.O. Box 17008
Jackson, MS 39217
Phone: 601-979-3935
mwa@jsums.edu

Keep up to date
with all MWC events
by signing up for the
MWC Listserv!

Resources
Researcher Application
Association of
African American Museums